Starter Pack that offers more than the price

By Simphiwe Malenga
Toyota South Africa  Recently Launched Its New budget car the  Agya, A New, Small, Affordable Vehicle With Appealing Design And A Fair Safety Standard. The Agya replaces the Aygo and Etios to offer the cheapest Toyota in South Africa at lower Price. It's based on a Daihatsu Ayla and built in Indonesia. The Name Ayla Is Sanskrit For "Light", While "Agya "Means "Fast." In The Engine Is Three-Cylinder, Fuel-Injected Petrol Engine Serves To Make Light Work For Urban Drivers.49kw Power And 89Nm, The Agya Sips 4.8 L/100 Km. Toyota South Africa had a chance to  choose from two types of engines at the plant in Indonesia where the Agya is produced a 1.0-litre 3-cylinder or a 1.2-litre 4-cylinder.
For a vehicle that costs less than R200 000 , the Agya  have most of the essentials. Air Conditioning is standard in all models as are power steering and electric windows all round. The higher-spec models (with audio) are equipped with a USB and Aux. port while all models are Toyota Connect enabled. The base-spec cars do not come with a radio but do have 2 speakers installed if you wish to fit your own audio system. The higher-spec models come with a Toyota double din system, also with 2 speakers. Bluetooth is also only available on the top-spec models. Toyota dealers are offering an audio upgrade option that includes a touchscreen system equipped with Apple Carplay and Android Auto. It sprints from a standstill to 100 km/h in 14.6 seconds en route to a top speed of 165 km/h. The automatic Transmission gets the same job done in 16.3 seconds before hitting the limiter at 145 km/h. According to Toyota, the new Agya returns 4.8 l/100 km in manual gearbox and 4.9l/100km for the automatic transmission.
Personally, I would  like some adjustability to the seating position, I'm Tall and when one drives you need to be comfortable. I would  prefer the seat height or steering column; the Agya has neither. You sit in the position That is standard in the Agya with only the option to move forwards or backwards on the rails. That means a very high seating position, but at least the roof is also high, so there's Enough  headroom for drivers .The backrests of the front seats are a single unit, so there's no headrest adjustability either
Rear occupant space is good; there is enough legroom, even when seated behind the driver's seat set up for a person that is Tall.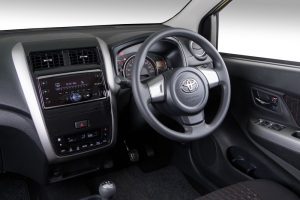 The infotainment system on the standard derivative looks like a standard radio, but Toyota will offer the option of a touchscreen infotainment system very soon. The standard system will give you access to Toyota Connect, which works as an app on your phone that allows you to stream video and music, there's even free data (10 GB) thrown in for use within the App.
Safety features equipped on the Agya include ABS brakes with EBD support while 2 airbags are standard for the whole range, There are also 2 ISOfix points in the rear for fastening child seats.
The Agya feels stable and secure at highway speed, but once you push it to the 120 km mark there's plenty of road and wind noise After all, it tips the scales at a modest 835kg and Our route crossed  more than 100km and saw us driving through Rosebank to Irene in Tshwane and back the car performed perfect, I was alone in the car so I can't speak for what it's like with 2 or 3 passengers on board, but it had more than enough power to accelerate up some of the steeper sections and even maintained momentum, I would go as far as to say the engine is perky; the Agya feels more alive than some of the Cars in the same Segment
Consumers  can choose from a range of funky exterior colors, including Sunrise Orange, Electric Yellow and Flame red, as well as more conservative hues such as white, grey and silver.
All Agya models are sold with a two-services/20,000km service plan and a three-year/100,000km warranty.
Pricing
Agya — R178,600
Agya auto — R192,500
Agya (with audio) — R182,400
Agya auto (with audio) — R196,300