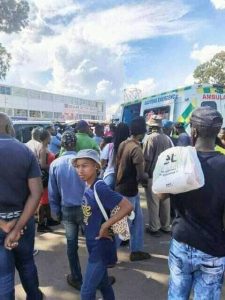 For many, Vereeniging has become one of the most dangerous and unsafe places in the Vaal Triangle as it has become notorious for drug dealing and robbery.
For years, the community has been crying on deaf ears about foreign nationals flooding the area and selling drugs.
Yesterday, Vereeniging came to a standstill as taxi drivers closed Voortrekker and allegedly took matters into their own hands by attacking foreign nationals believed to be drug dealers and beating two of them to death.
Sergeant Nombulelo Mohlakwana confirmed the two deaths. " When police officers arrived at the Vereeniging taxi rank, we found a Nigerian citizen dead and two males badly assaulted. The two where transferred to Kopanong hospital where one of them later passed on."
" We have no proof that it is taxi drivers who did that, but it happened at Vereeniging taxi rank," she added.
Mohlakwana says the police are investigating the case and urges anyone with information to contact her on: 079 6946 963.